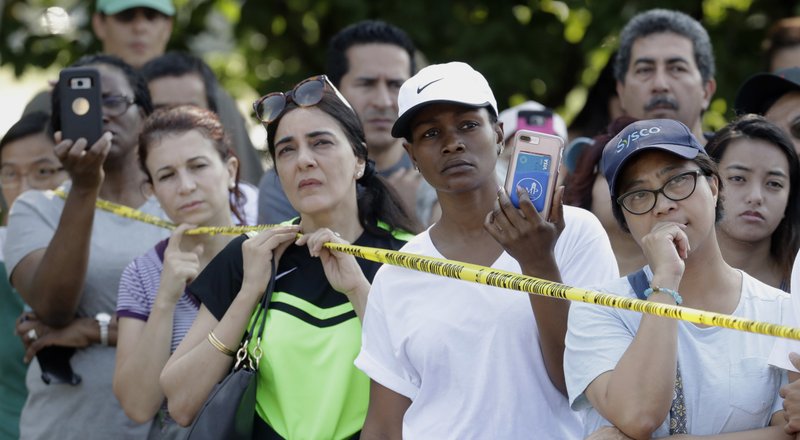 T
he charges of racism that swirled after Hurricane Katrina devastated New Orleans 12 years ago have yet to surface as Houston recovers from the floods unleashed by Harvey.
Houston was hit as the nation roiled from a white supremacist rally that turned deadly Aug. 12 in Charlottesville, Virginia. The violence left in its wake deep divisions primed by President Donald Trump's assertion that "many sides" were to blame, producing heated debates about Confederate statues and whether they are important historical markers or symbols of hate that should be removed.
Those raw tensions didn't boil over even as Trump provided another potential spark by pardoning Arizona Sheriff Joe Arpaio, who was convicted of ignoring a judge's order to stop targeting Latinos suspected of being in the country illegally. Trump made the move just as Harvey made landfall Aug. 25 and took aim at Houston, where Hispanics make up about 44 percent of the population.
When Katrina struck on Aug. 29, 2005, New Orleans had 500,000 residents, nearly 70 percent of them Black. Americans were horrified by images of people stranded on rooftops and scrounging for food and water. There were appalling conditions in the Superdome, the shelter of last resort for thousands and a hell-scape for those too poor to leave ahead of the storm.
The face of Katrina was largely Black and poor. Within days, Katrina's death toll was into the hundreds. By contrast, Harvey's death toll hovered around 60, though it's expected to rise as waters recede.


Many cited the heavy death toll following Katrina, and the slow, inadequate government response, as evidence that New Orleans' poor, black residents were considered disposable. "I hate the way they portray us in the media," rapper Kanye West declared during a Red Cross telethon, adding that President George W. Bush "doesn't care about black people," a sentiment that resonated with many African-Americans.
By comparison, Houston — a sprawling city of more than 2.4 million — is more racially diverse, with blacks and whites each accounting for about a quarter of the population. Because there was no mandatory evacuation, people of all races and classes remained in the storm's path, not just folks who couldn't afford to leave.
That made for diverse images in the scenes of boat rescues and families huddling in shelters, said New Orleans native Mtangulizi Sanyika, a retired professor and social activist who left his New Orleans neighborhood the day before Katrina hit and now lives in Houston.
"In New Orleans, we had a human tragedy on our hands that obviously, black people were the primary victims," Sanyika said. "The flood here … was an equal opportunity flood."
George Washington University sociologist Gregory Squires said "there's no question the optics feel different" in Houston.
"What we're not seeing in Houston are the hundreds of black people being stuck in a building or stopped on a highway and blocked from getting out of the city," said Squires, co-editor of the book, "There Is No Such Thing as a Natural Disaster: Race, Class and Katrina." ″Nobody is saying that Donald Trump doesn't like black people."
In New Orleans, as the levees broke, the water rose and people struggled to survive as media reports of looting depicted storm victims as criminals. Those who were eventually able to relocate to other cities were labeled "refugees," a term usually reserved for people fleeing one country for another.
The narrative around Katrina was urban neglect — years of disinvestment in infrastructure affecting a largely minority population. With Harvey, the focus is more on urban sprawl and how development may have compounded a natural disaster.
"Katrina was kind of a crime scene, with implications against local, state and federal government on how they were failing poor people; in Houston, it's kind of universal," said Rice University historian Douglas Brinkley, author of "The Great Deluge: Hurricane Katrina, New Orleans, and the Mississippi Gulf Coast."
Houston Mayor Sylvester Turner, who is Black and grew up in a lower-income area of the city, noted that the George R. Brown Convention Center where 10,000 people took shelter was far different from what those in New Orleans encountered.
"I think people have felt comfortable," he said. "This is not their place of choice. They would rather be at home. But we try to treat people with respect. They are our guests. They are our fellow Houstonians."
Devin Coleman, 34, moved to Houston from the Lower Ninth Ward in New Orleans just before Katrina hit. He lost his aunt and his grandmother in the storm. He was sheltered at Houston's convention center for nearly a week and was amazed at how helpful people were.
"If you weren't White or had your own money, it's almost as if they didn't want you there." Coleman recalled of the environment during Katrina. "In Harvey, nobody is talking about race. It's just, 'What do you need?'"
Al Sistrunk, 67, echoed Coleman's sentiments, praising the city's response to Harvey while waiting in line to file a Federal Emergency Management Agency.
"Here in Houston, it's everybody," Sistrunk said. "We're getting housing, people are getting food, people are getting material they need for their houses. They rescued everybody, they weren't rescuing white people first or Black people first, at least that's what they show on the news."
Texas Southern University urban planning professor Robert D. Bullard warned what happens next could uncover racial disparities.
Homeowners of color may lack the financial resources or networks to rebuild as quickly, if at all, he said. On the city's more affluent and white west side, Bullard noted people are "hiring contractors and starting to rebuild."
Bullard, regarded as the father of "environmental racism," also pointed out that poor and minority residents were most likely to have lived in proximity to the industrial areas affected by the storm. Pollution and chemical spills could affect those communities disproportionately.
Squires predicted as the scope of the damage is surveyed the racial impact will grow.
"Rich and poor alike were affected by the storm, but I strongly doubt that these groups were affected equally," he said. "The optics clearly are not as racial here as they were in New Orleans. But I think we need to distinguish between the optics and the reality."
___
Juliet Linderman and Juan A. Lozano contributed to this report from Houston. Whack reported from Philadelphia and is a member of The Associated Press' Race and Ethnicity Team. Follow her work at https://www.twitter.com/emarvelous
About Post Author