One of the most recognizable figures on the Earth is Muhammad Ali. While many have heard his name and been told of his exploits in the ring, do you truly know his story?
You may know that he suffers from Parkinson's disease and is not the fast talking, swift moving athlete he once was. You may know that he joined the Nation of Islam, and you might even know that he refused to fight in America's military, but how did he become such a beloved American figure?
You could say he has now become the quintessential American symbol. You don't get much more American than carrying the Olympic torch and lighting the flame, as he did during the opening ceremonies of the 1996 games in Atlanta.
Historically speaking, many are acquainted with the popular portrayal of Muhammad Ali as a brash, braggadocios (some might even say arrogant) boxer who in his own words "shook up the world" becoming the heavyweight champion of the world as a 22-year-old in 1964. Though many movies and documentaries have been produced purporting to tell his story, they typically gloss over his turbulent times outside of the ring. Many fail to realize that at one time, he was one of the most vilified people in the United States.
As it is with many widely known historical figures, opinions and perceptions vary because information about them is delivered to the unsuspecting public through the social and political lenses of authors, commentators, film producers, and media personalities.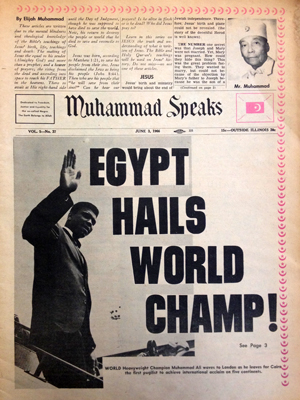 Muhammad Ali on the cover of Muhammad Speaks newspaper in 1966.
The fact that he backed up his words by defeating his foes in the ring is very important, but the fact that he stood firmly on his beliefs outside of the ring defeating his foes in an epic battle of morality must be looked at more carefully and perhaps does more to tell you about who Muhammad Ali is.
"The Trials of Muhammad Ali," from Kartemquin Films (Hoop Dreams, The Interrupters) is by far the fairest treatment I've seen because of the prominent presence and voices of those who actually lived through it. One of the primary reasons for that is Khalilah Camacho-Ali, wife of Muhammad Ali from 1967 to 1977.
She said when she was approached to be a part of it in the very beginning, she told the director, Bill Siegel, thatMinister Louis Farrakhan's valuable perspective must be included if the truth about the champion fighter was to be told.
"I said he has to be in there," said Ms. Camacho-Ali. "When Ali and I got married, we weren't very wealthy or anything so we didn't have any money to go on a honeymoon or anything, so Minister Louis Farrakhan invited us up to New York to his home, took us on a boat ride on the Hudson River, took a little 8mm video and stuff, we had a ball! We were on the cover of every Jet Magazine with Farrakhan and his family as being our sponsors. They took care of us during the time when we had nothing. For him not to be in there would be absurd," she added.
The Farrakhan family, knowing her long before she even met the champion fighter, provided a sanctuary for a young Muslim girl whose life was now in the spotlight, and supported them both providing comfort and compassion during times of woe and depression.
Ms. Camacho-Ali said Mr. Siegel did not object at all, and that was when she knew this was an individual that she believed would really work to honestly tell the story. She said for various reasons, many are afraid to delve into the complexities of Muhammad Ali's membership in the Nation of Islam, the court cases and others aspects of his life which are deemed controversial.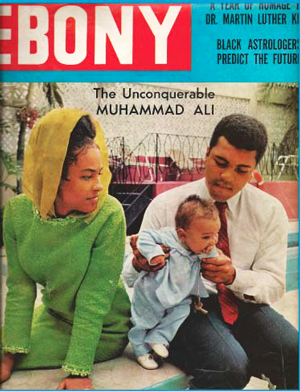 Ali family featured on the cover of Ebony magazine in 1969.
Talking about Muslims is sometimes seen as threatening to producers and filmmakers, and they don't know how far they can go with it, so there is a sense of fear which usually results in them "playing it safe" and simply sticking to boxing, she said.
If you've already had the opportunity to watch the documentary, you know she has a lot of personality, and believe me, she was the same way in person. Very colorful, expressive, and direct.  She had no problems vividly recalling the sights and sounds of her youth and speaking plainly about her experiences.
She said when she first saw Muhammad Ali, she was a young student at the Muhammad University of Islam and it was an exciting moment for her and her classmates. She said she heard the members of his entourage walking down the hallway before they came into view.
"It sounded like gladiators walking down the hallway and I looked through the crack of the wall and there he was—a gladiator—a live in living color Black man," said Ms. Camacho-Ali. "I knew God had Black gladiators on the Earth and I saw it when he came through the hallway. That's when I knew he was a gladiator; one of those gladiators that wins all of the time—I felt it," she added.
Although it was a memorable moment for her, she said she was not thinking at all about him being her husband. She was just a young student who was willing at any moment to defend her belief in Islam as taught by the Most Honorable Elijah Muhammad. She said she remembers others teasing her and her friends for wearing long dresses and head scarves.
"I remember going on the school bus, going from home to school or going from the Honorable Elijah Muhammad's house because I grew up in the house with his grandchildren and I would see the girls roll their skirts up—the ones that weren't really Muslims—so people wouldn't laugh at them," she said.
She said she was a fierce defender of the Most Honorable Elijah Muhammad, and often, her father would get calls about her knocking people's teeth out for speaking negatively about the patriarch of the Nation of Islam. She even told me about an encounter where one young boy got more than he anticipated after doing so.
"There was one boy was hollering about Elijah Muhammad and you know how in the suburbs you have the big mountain or hill when they're building a new house? That boy ran across that hill and I picked up a rock and said 'Allah hit him for me' and I threw that rock hard as I could and  it went straight in the boy's mouth! Now that's what you call God sent!" said Ms. Camacho-Ali matter of factly.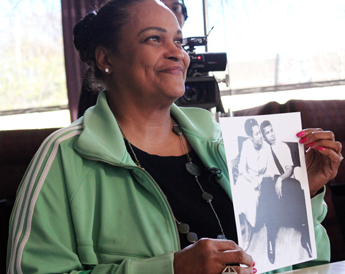 Khalilah Camacho-Ali holds photo of the two as a young married couple.Photo: Tim 6X
"I say you can talk about my momma, you can talk about my daddy, you're not going to get a rise out of me but you better not talk about the Honorable Elijah Muhammad! I will hurt you. Don't step across that line—that is one line you don't want to cross with me. I might not be no Muhammad Ali but you will not get up," said Ms. Camacho-Ali, who is shown in the documentary with boxing gloves and punching the heavy bags. "Oh I'm serious! I was a warrior of Islam."
It is a mistaken belief that the Nation of Islam misguided or misused Muhammad Ali.  In fact, it was the opposite, said Ms. Camacho Ali. The Nation of Islam protected Muhammad Ali from unscrupulous elements who controlled the boxing industry in particular and sports in general.
"Quiet as it is kept,  if it wasn't for the Nation of Islam, if it wasn't for Elijah Muhammad, if it wasn't for (Jabir) Herbert Muhammad protecting his interests, Ali could have been sold-up to any kind of Italian mafia or  Jewish mafia," said Ms. Camacho-Ali. "The mobsters were involved or over all sports events basically. The mob handles gambling, they handle sports. This was a time and era and thank God that didn't happen and that was a good protection for Muhammad Ali. He could do what he pleased, do what he wanted, do what he did best without any conflicts or deceit or gambling. That was a good feeling and that was a good thing to have in our corner."
She also said during the most trying times, it was the Honorable Elijah Muhammad who stepped in to make sure they had what they needed.
"We had the Nation of Islam, we had the Honorable Elijah Muhammad and when we really ran out of money and didn't have anything, the Honorable Elijah Muhammad came in and supported us, he gave us money to survive and prevail. That was a great help," she said.
Ms. Camacho-Ali talks about working with, living with and supporting one of the most famous men on Earth during his battles with the courts and the U.S. government after he ignited the anti-war movement declaring himself a conscientious objector and subsequently losing his boxing license hindering his ability to make a living. Trying times that affected them both, but secondary to him being a man with courage, standing for a cause, and living a life with purpose.
"That's a battle we battle within ourselves every day. I feel that if they see the battles that Ali went through, they can see the battles they're going through because it's all the same and I think they can learn from that," said Ms. Camacho-Ali. "It's not just the trials of Muhammad Ali it's the trials of us all and that's why it's so important to see that film. You know documentaries are as boring as can be, but it's nothing boring about Muhammad Ali, it's nothing boring about the real side of Muhammad Ali that nobody had a chance to see," she added.
(This documentary contains little known facts along with outstanding archival footage of the Honorable Elijah Muhammad and candid interviews with Nation of Islam pioneers, veteran journalists, and commentators. For information regarding nationwide viewings and screenings of "The Trials of Muhammad Ali" visit kartemquin.com. Khalilah Camacho-Ali can be reached via her website khalilahali.com.)