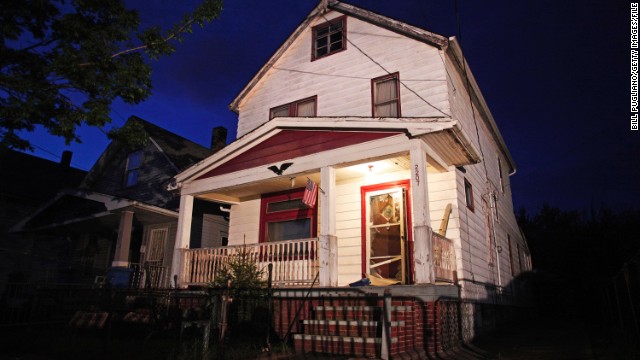 (CNN) — The house of horrors where Ariel Castro held three women captive for a decade will crumble to pieces Wednesday as workers demolish the Cleveland home.
Castro forfeited the house on Seymour Avenue as part of a plea deal with prosecutors that took the death penalty off the table in exchange for a life sentence, plus 1,000 years in prison.
The goal is the tear the house down and get the property filled in, graded and seeded in a single day, according to Gus Frangos, president of Cuyahoga Land Bank, which is supervising the demolition.
Castro's friends and family removed personal items from the home Monday, including musical instruments and photographs. Police said most of the items removed Monday were personal items left over after investigators collected evidence.
Castro pleaded guilty to 937 counts, including murder and kidnapping. The charges stem from his kidnapping, rape and assault of three women: Michelle Knight, abducted in 2002; Georgina DeJesus, abducted in 2004; and Amanda Berry; abducted in 2003.
Castro is the father of Berry's 6-year-old girl, DNA tests confirmed.
Berry also visited the house, collecting pictures drawn by her daughter.
Berry and her daughter escaped from the home with the help of a neighbor on May 6, calling police in her now famous 911 call: "Help me, I am Amanda Berry. I've been kidnapped, and I've been missing for 10 years. And I'm here. I'm free now."
Castro reconfigured the 1,400-square-foot home to keep their whereabouts a secret, FBI agent Andrew Burke testified during the sentencing. The back door was outfitted with an alarm, bedspreads and curtains obscured parts of the home, and a porch swing was placed in front of the stairs leading to the rooms where Castro held the three hostage.
(Photo: The house where Ariel Castro held three women captive for a decade is set to be torn down Wednesday, August 7.)
About Post Author