Hundreds of black-owned businesses have a new way for consumers to find and shop with them. There is an app for that.
The Around the Way app, the brainchild of a marketing and technology firm in Washington, D.C., allows the customer access to companies that are at least 51% African-American owned and employed. The U.S. Black Chamber of Commerce last fall endorsed the app as the wave of the future for buying black, but the local chambers attended an online seminar last month in order to educate their membership on its use and marketing.
Eric Hamilton, Chief Marketing Officer for Around the Way, said that the structure of the service follows the Google model. "When Google first started, they allowed companies to list their service for free, but charged a premium for those who wanted to be located by ratings rather than location," he said. "All of our registered companies sign up for free, but there is a premium service for $89 per year that allows a company to be the first choice in that category no matter how far away they are from the consumer."
Since the fall, the Around the Way has registered over 800 companies in Georgia with 200 of that in metro Atlanta. Free to download, the app features a search tool with categories from banks to restaurants to auto shops and more. Users are able to geo-locate and get directions to the closest business via category, but it also allows for some healthy competition.
"Say you're in Atlanta and you want to find a laundry or dry cleaners," said Hamilton. "The app will give you the choice to go to the business that is within 5 miles or the higher rated business that may be in Marietta," he said.
---
Allison Cross, co-owner of Boxcar Grocer on Peters Street said that her store registered with the Around the Way app about two months ago. "Latinos and blacks are the most major consumers of shopping though mobile apps," she said. "I'm excited about the potential to collaborate with other businesses also using the app."
Boxcar Grocer offers organic and natural foods and baked goods, so they plan to use some of the bakeries, health and beauty manufacturers, and related suppliers listed on Around the Way as suppliers for their store.
Michael T. Hill, founder of the Atlanta Metro Black Chamber of Commerce, said that the Around the Way is an excellent tool to assist the black consumer in leveraging the $73 billion in buying power that they currently spend in other communities.
"I think it's a great start in terms of connecting with the African American consumer through technology," he said. "It's very similar to the Be Locally tool that one of our members developed on our website www.ambccc.us, where it allows consumers to rate a positive experience that they've had with a local company."
At present, there are over 52,000 African-American owned companies in metro Atlanta. It is hoped that that collaboration with the marketing team of Around the Way and the black chambers will increase the awareness of those companies in an effort to bring the black dollar back into the community.
"We've looked for solutions in our schools, our churches, and at the government level for saving our community," said Hill. "Now, it's time for our business community to step up."
Hill said that the Atlanta Metro Black Chamber of Commerce plans to officially launch the Around the Way app marketing plan to its 350 members in June during its music, technology, and entertainment roundtable series.
(Photo: The Box Car Grocer is a popular hangout for healthy food lovers in Castleberry Hill and beyond. Photo by Vincent Christie)
Food safety advocates are outraged over revelations that U.S. Congress and President Barack Obama approved an act that includes a provision purporting to strip federal courts of the ability to prevent the spread of genetically modified organisms (GMOs).
The provision in the Consolidated and Further Continuing Appropriations Act of 2013 requires the U.S. Department of Agriculture to issue temporary permits allowing the continued planting of GMOs by farmers, even when a court rules that the agency erred in its environmental impact review of the GMOs.
The provision, which activists call the Monsanto Protection Act, is one for which the multinational corporation Monsanto has been lobbying Congress for at least a year. The legislation passed the U.S. House of Representatives on March 6 and the Senate on March 21, with Obama signing the legislation five days later on March 26.
Revelations of the provision, which was buried in the 587-page spending bill (HR 933, under Division A, Title VI, Section 735), have increased public awareness and interest in the issue of GMOs in the United States.
The provision states that if "a determination of non-regulated status … is or has been invalidated or vacated, the Secretary of Agriculture shall, notwithstanding any other provision of law, upon request by a farmer, grower, farm operator, or producer, immediately grant temporary permit(s) or temporary deregulation in part."
Industry control
U.S. Senator Jon Tester, a Democrat from Montana and one of the only family farmers in Congress, spoke out against the provision on the floor on the Senate.
"The United States Congress is telling the Agricultural Department that even if a court tells you that you've failed to follow the right process and tells you to start over, you must disregard the court's ruling and allow the crop to be planted anyway," Sen. Tester said.
"Not only does this ignore the constitutional idea of separation of powers, but it also lets genetically modified crops take hold across this country, even when a judge finds it violates the law," Sen. Tester said, describing the issue as "once again, agribusiness multinational corporations putting farmers as serfs."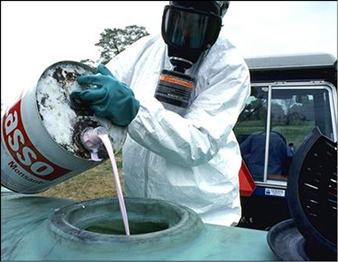 Monsanto herbcide to be sprayed on food crops. Photo: mgnonline.com
Meanwhile, activists are holding Senator Barbara Mikulski, a Democrat from Maryland, partially responsible, as she was the committee chair who allowed the amendment and could have addressed the provision in congressional hearings
In a statement, Sen. Mikulski's spokeswoman, Rachel MacKnight, defended her. "Senator Mikulski understands the anger over this provision. She didn't put the language in the bill and doesn't support it either."
"As chairwoman of the Appropriations Committee, Senator Mikulski's first responsibility was to prevent a government shutdown. That meant she had to compromise on many of her own priorities to get a bill through the Senate that the House would pass," spokeswoman MacKnight said.
Because the provision is temporary, it will likely come up for reauthorization in September 2013, an opportunity for public opposition that activists are relishing.
"The USDA has working mechanisms in place to allow for partial deregulation for those crops," Colin O'Neil, director of government affairs for the Center for Food Safety, noted in an interview with IPS.
"At best, it's unnecessary and duplicative. At worst, it takes oversight away from the USDA and puts it in the hands of the industry," Mr. O'Neil said of the provision.
The center has concerns about how the USDA has used temporary deregulation in the past, such as with genetically modified sugar beets. Both genetically modified alfalfa and sugar beets have been held up in court in the past over National Environmental Policy Act challenges.
"While we have argued that the USDA isn't adequately protecting farmers and the environment, the rider will essentially prevent the USDA from safeguarding farmers and the environment because it forces the agency to comply with industry demands," Mr. O'Neil said.
Future benefits
Monsanto has proposals for numerous GMO crops in the pipeline that could be affected by this rider.
"I think the Monsanto Protection Act and how it was passed and how it was slipped into law is just another example of how this company operates, how they manipulate our democracy, and they buy off our elected officials," Dave Murphy, founder of Food Democracy Now, told IPS.
"This is another example of how … they choose to operate within the rules of a democratic society. They're like the mafia, they go in and write the rules the way they want them to be," Mr. Murphy said.
"Monsanto really did themselves a major disservice by slipping this into a continuing resolution," he said.
Monsanto, which does derive benefit from the provision, responded in a statement, saying its critics have an "interesting narrative, worthy of a B grade movie script."
"Virtually none of the people protesting actually read the provision itself. Those who did, found a surprise: It contains no reference to Monsanto, protection of Monsanto, or benefit to Monsanto. It does seek to protect farmers, and we supported the provision," Monsanto wrote.
Senator Roy Blunt, a Republican from Missouri, inserted the provision, or "rider," into the spending bill, according to Politico. Monsanto is based in St. Louis, Missouri. (IPS)
(StatePoint) There's a good reason why many people dream of owning a home. Homeownership offers benefits such as stable monthly payments and the opportunity to establish a sense of community. It can also be a way to build equity over time.
But don't dive into the process unprepared. Experts say it's crucial to become financially literate first.
"Educated borrowers are better prepared for successful, long-term homeownership and overall financial stability," says Christina Diaz-Malone, Vice President of Housing and Community Outreach at Freddie Mac.
In fact, a recent study found that financial counseling before purchasing a home can reduce the likelihood of going into default. For first time homebuyers, counseling reduces the likelihood by an average of 29 percent.
Luckily, free credit education resources and information are becoming more widely available.
For example, Freddie Mac's CreditSmart program, a comprehensive, multilingual curriculum used by lenders, churches, schools and non-profit organizations, has helped more than three million consumers across the country make more informed financial decisions. Today it's available in two ways.
CreditSmart's new, self-paced web version features 12 education modules. You can take the free online course at www.FreddieMac.com/creditsmart.
Or, consider attending a class led by a housing counselor certified by the US Department of Housing and Urban Development.
A credit education course can prepare you for homeownership by covering the following topics:
Budgets
A spending plan is necessary for anyone with financial goals. Financial education can help you differentiate your spending needs vs. wants, and set up a realistic budget accordingly, as well as provide guidance for how to stick with the plan.
Credit
Generally speaking, the better your credit, the lower your interest rates and fees will be when obtaining a loan. If you don't have credit or you don't have good credit, it's essential to establish good credit before trying to get a loan.
Savings
To buy a home, you'll need upfront money for a down payment, which is usually between five and 20 percent of the home price, and money for closing costs, moving expenses, and any immediate repairs or renovation costs.
Credit education can teach you how to save and how to invest your money wisely.
Lingo
The real estate and mortgage world has its own language. And if you aren't well-versed in it, you can get in over your head quickly. Study up on terms and concepts like loan-to-value ratio and fixed-rate mortgage so you don't sign anything you don't understand!
Avoiding Fraud
Unfortunately, there are unscrupulous companies and individuals out there who may not have your best interests in mind. Reliable financial education can help you recognize the warning signs of fraud. Familiarizing yourself with the resources at www.FreddieMac.com/homeownership/educational/ is a good start.
Ask family and friends for names of real estate agents and lenders with whom they've worked or contact your financial institution or a certified housing counselor for guidance.
Is homeownership right for you? Don't just guess. By becoming a savvier consumer, you can make smart financial decisions.
(StatePoint) Tired of taking orders? Have a great business idea? May, which is National Small Business Month, is a great time to think about starting your own endeavor.
But do you have what it takes to do it all yourself?
A new survey of business owners, conducted by Deluxe, a provider of marketing services and products to small businesses, concludes that small business owners share many of the same tendencies and even similar personal histories -- a sort of unique DNA that allows them to thrive.
For example, when it comes to heredity and actual DNA, 76 percent of small business owners have relatives who owned businesses. And 86 percent are ultra-confident, believing they can do anything they really set their mind to.
Most interestingly, the research found a tendency to try and fail, then succeed. Seventy-seven percent of small business owners surveyed said they would rather learn from failure than never try at all.
"With confidence, drive, tenacity and talent, small business owners will improve their chances at being sustainable and profitable," says Tim Carroll, vice president of small business engagement at Deluxe.
In time for National Small Business Month, here are some tips for those looking to launch businesses:
• Do your research: While starting a business involves risk, you can mitigate some uncertainty with proper research. In fact, seventy-nine percent of small business owners research products before purchasing, according to the survey -- a tendency that far exceeds that of the general population.
Have a clear understanding of your market, competitors, expected startup costs, overhead and return on investment. Know who your customer base will be and learn about them.
• Build a brand: Powerful branding differentiates a company from its competitors, making it easier for customers to choose that company for business relationships, and allows a company to get referral business.
However, don't wing it yourself on your home computer. A professional design team can help you stand out for the right reasons. For example, Deluxe offers logo packages that can include a tagline, letterhead and customized email signature. Visit www.Deluxe.com for tips on making your company's brand memorable and appealing.
• Communicate: Whether you're providing legal services or you're a roofing contractor, technology has made it easier for business owners to establish themselves as experts by sharing their knowledge with current and potential customers. Use social media tools to deliver news, offer information and provide deals and promotions.
• Optimize: If you build a website will they come? Not necessarily. Text-based content is how Google determines what a site is about. Be sure to add keywords to your title page, page description, meta tags and headlines. Using a professional SEO service, such as OrangeSoda, can make a big difference when it comes to traffic volume to your site. Visit www.OrangeSoda.com to set up a free consultation.
For more resources for starting or growing a small business, visit www.Deluxe.com and click on "Idea Hub."
These days, you needn't be a Gates or a Trump to be successful. The right tools and attitude can make all the difference.
I believe our future is in good hands, despite what recent news headlines would have us otherwise believe. You are as familiar as I am with the barrage of negative stories of violence, drugs, teen pregnancy, bullying and other questionable behaviors of today's youth. No matter where you live in the country, I'll bet there are legions more of good kids in your city or town who are shining in every area of their lives, excelling in school, giving back in ways both small and large to their communities, sports and other extracurricular activities. In the spirit of full disclosure, I claim my bragging rights as the mother of one of these outstanding young people, my 16-year-old son.
I always talk about how this nation is becoming more and more multicultural day by day. In fact, in eight years, there will be 170 million multicultural consumers in the United States. This nation is a huge melting pot already, but these forecasted numbers are promising for people of color – especially young people.
According to the most recent U.S. Census, African-Americans, Hispanics and Asians each make up 42 percent of the youngest demographic age groups: 12-17, 18-24 and 25-34. These same groups of young folks are going to be in our shoes as adults in a few decades and their numbers are on the rise. The 18 to 24 year-old demographic is, in fact, growing faster than any other segment.
Businesses and advertisers are paying very close attention to the information I'm sharing with you today. All of us know by now how critical everything we purchase, watch, read and listen to is for manufacturers and marketers. The same is true for young people. What are their consumer behaviors? How much are they contributing or will they contribute in the future to the consumer bottom-line? Nielsen research shows that teens have some real purchasing potential – although at this point, that potential has a lot to do with the earnings of their parents, grandparents or guardians, since most kids are not yet making the big bucks. Last year, 29 percent of teens in the U.S. lived in households earning more than 100K. And if you are the parent of teenager(s), you know they are very good at spending our money. Can I get an 'AMEN' on that?
I'm sure it comes as no surprise that ownership of smartphones and tablets is growing faster in households with teenagers. There was a 45 percent jump in smartphone penetration among teens between 2011 and 2012, a 32 percent increase among young adults 18-24 and 22 percent among those 25-34. The numbers for laptop penetration are interesting. It seems laptops are cool with young people until they hit their late 20s – even though laptop ownership has increased in all three young adult age groups (12-17, 18-24, 25-34) over the last year.
We talk a lot in this column about how much time all of us spend in front of the television or watching our video content on one of the many other fun electronic toys we own. That time spent is money – both for the marketers who want to reach us and the program providers who measure and make decisions based on our viewing habits. Teens and young adults, like the rest of us, watch most of their shows and videos the old school way – on television. However, according to Nielsen's most recent Cross-Platform Report, young consumers under 34 watched more video on the Internet and their mobile devices in 2012 than they did in 2011.
The "under 34" crowd isn't a monolithic group, though, when it comes to video consumption. Young teenagers lead in watching content on their mobile phones (I can attest to this); 18 percent more than those 18-24 and 46 percent more than the next age group, 25-35. On the other hand, teens don't seem to favor watching online, even though laptop ownership is higher in that group. The data shows that in the last quarter of 2012, those in the 18-24 age bracket spent nearly three times more consuming video on the Internet than 12 to 17-year-olds. The "oldest" of the young demos, the 25 to 34-year-olds, spent the most total time watching video across all platforms in 2012: 19 hours and 30 minutes more per month than 18 to 24-year-olds and 40 hours and 54 minutes more a month than 12 to 17-year-old consumers.
Whenever I speak to youth groups, I always let them how much of the sweet target they are to marketers. And I think the information I just shared supports this statement. The youth of today should feel empowered, too. Because not only are they the future, they are the present and marketers are watching.
Cheryl Pearson-McNeil is senior vice president of Public Affairs and Government Relations for Nielsen. For more information and studies go to www.nielsenwire.com.
Subcategories